RADIO SHOWS :
-  Live Every Monday & Thursday, at Al-Balad Fm Lebanon, morning show: Different nutritional and health subjects.
- Nassiha bi jemlei: More than 20 nutritional flashes all over the day: at Al-Balad Fm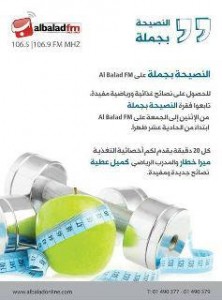 -  Mira at sot libnan al hurr: Obesity during  childhood and adolescence
VIDEOS:
A fun small biography about me, the way I work. I offered some nutritional tips and have talked about the major diet misconceptions I hear about.
TELEVISION SHOWS:
- Mira  Live at ART tv, American channel: Healthy eating to prevent cancer diseases
- Mira  Live at MTV Lebanon: Causes & treatement of bloating
- Mira at Al Jadeed TV Lebanon with chef Richard:
1 Anti-cancer tasty and healthy dishes.
2- Vitamin D importance, with live healthy dishes
3- Nutrition for pregnant women
- Mira live at tele lumiere, Lebanon: Treating high blood cholesterol and triglyceride levels.
- Mira at Tele Liban: Easter sweets celebrations and its effect on body weight!
- Mira at Al-Hurra TV, Dubai: Food alternatives to red meat.
- Mira at MTV Lebanon during " The Doctors" show: 10 main mistakes to avoid for a healthier lifestyle.
- Mira at Al Wattan TV, Kuwait: Talking about diet misconceptions.
- Mira at al Rai Tv, Kuwait: Food to prevent different forms of cancer
- Mira Live at A l Ghad Tv, Skype call: tips about the proper nutrition to get a fit and healthy body, inside out.
- Mira for actifry From Tefal:
I have done the Ad of Actify challenge from Tefal, chosen from Kuwait to represent this Ad.
So it's showing people how small healhy cooking modifications can make a big difference.. Because all we need is simply a healthy lifestyle