That's a quick breakfast I had yesterday, and I want to share it with you!

 It's a good idea for  those who wants to grab a quick sandwich!
It is the feta & tomato sandwich from Americana!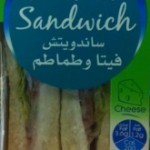 Actually this is the lighter one compared to all Americana sandwiches.
The sandwich constituents are mainly 2 white toasts but cut in two, feta cheese, lettuce and tomatoes. That's it!
Feta cheese is a light kind of cheese, low in fat and calories.The white and brown toasts have the same amount of calories, but the brown one has more fiber, which is surely healthier.
http://eatlikemira.com/2012/08/12/yellow-cheese-vs-white-cheese/
The nutritional facts of the Americana feta & tomato sandwich:
Calories: 200kcal
fat: 4.7 grams (70 %from unsaturated fat)
protein: 4.9 grams
Fiber: 0.86 grams
Light and tasty one occasionally!!!