This is the KDD SANDWICH VANILLA ICE CREAM!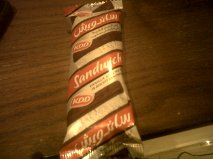 I was craving for an ice cream then I said to myself  let's try this sandwich ! And I've noticed that it is low in fat and low in calories, perfect for ice cream addicts!
 This is why I wanted to share it with you

The sandwich bread has a really sweet addictive taste, and the vanilla filling makes it taste even better.
This fulfilling KDD Sandwich has in total 91 calories and 3.3 grams of fat.  
The vanilla ice cream is very light (only 10 % butterfat) , and this is something you feel once you taste it:)
Try it and share your feedbacks!